We are Terri and Don George, a local Riverview couple with a love of fine wines.
We've turned our passion for wine and for exemplary customer service into an enterprise that will help you explore and enjoy your love of wine as well.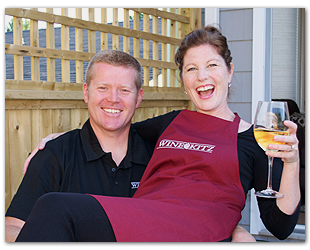 We have travelled to many countries, from Napa and Sonoma to Kelowna and Italy, tasting and experiencing all things wine. We are very excited to open Riverview's first Wine Kitz store. Whether you are new to making your own wine or have a full rack in your cellar, Wine Kitz Riverview is going to be just the place to get all your kits and supplies.
Let us help you make fine wine you'll be proud to serve with family and friends as you celebrate, honour or entertain. Once you've made and enjoyed our award-winning wines, you'll be as passionate about making your own wine as we are!
Background
After living in Alberta for five years, we are thrilled to back in New Brunswick with our 3 small children and family dog, and sharing our love of community – and most importantly, wine!
As a certified mechanical engineer (Don) and a former Air Canada flight attendant (Terri), we were ready for something new, and have been looking for a proven business venture for the past several years. When the opportunity to open a new Wine Kitz store in Riverview became available, the decision was easy for us; we were long time Wine Kitz customers, and we loved both the quality of the wines and standard of service we enjoyed. Becoming part of this successful franchise was a logical next step!
We paid very careful attention to the details of our new store, wanting to give you the best of everything. We offer:
Convenient central location in a popular plaza, next to Tim Horton's
Easy access and ample free parking
Full in-store wine-making services with state-of-the-art wine processing equipment: Most of our wine equipment is stainless steel to ensure cleanliness; our commercial bottle washer assures clean, sanitized bottles every time; our bottle fillers will fill each wine bottle in less than 20 seconds; corking wine bottles is made easy with our pneumatic corker!
Over 100 wine kit styles for the home wine enthusiast to enjoy as well
Full line of beer kits and equipment for making beer at home: beer bottles, caps, sugar, malts and other popular beer making adjuncts.
Fruit wine specialty yeasts and additives for home winemakers
Filter and corker rental
…and much more. We look forward to seeing you in store soon!