Limited Release Wine Kits
We are very pleased with our offering of upcoming Limited Release wine kits, and we know you will be, too! These wine kits are usually availableby pre-order only, so be sure to order yours.
OUR LATEST LIMITED RELEASES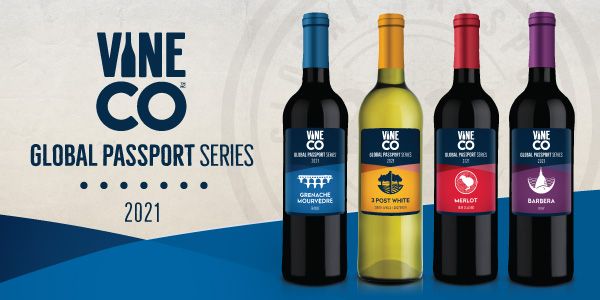 PASSPORT SERIES™ 2021
General Kit Information
TOUR DIFFERENT TERROIR, EXPLORE THE EXOTIC, AND UNCOVER THE UNIQUE.
6-8 WEEKS
14 L 3.70 US gal
MAKES 23 L 6 US gal
Every year, our highly anticipated VineCo™ Global Passport Series
takes us on a new adventure to the most prominent well-respected wine regions – from highly t outed up-and-coming regions to age old vineyards with long histories. A range of classic varietals to charismatic blends, this limit ed release wine series celebrates creativity and insists on excellence. Available for a short time by reservation only, it's a one of a kind wine experience. Where will VineCo™ Global Passport Series take you?
Grenache Mourvèdre, Languedoc France – RELEASE DATE: December 2020
THE WINE
A classic pairing of varietal reds from the southern vineyards of Languedoc France. This blend of Grenache and Mourvèdre shows ripe notes of strawberry and blackberry. The palate is vibrant, with soft tannins and a rich mouthfeel. Dark berry fruits are layered with hints of pepper and baking spice. A balanced wine with lots of intrigue.
THE REGION
The Languedoc is one of the largest wine regions in the world. It is in the sunny South of France situated along the French Mediterranean coast. The vineyards benefit from the Mediterranean climate with several hours of warm sunshine and cool nights from the sea breezes. They are known for their plentiful land with soil ranging from rocky sand to thick clay making it an ideal place to grow grapes.
THE FOOD
• Duck breast and white bean cassoulet
• Roasted vegetable lasagna
• Piave cheese.
Sweetness Dry | Oak Heavy | Body Med-Full | Alcohol 13%
3 Post White, Rawsonville South Africa | Clare Valley Australia – RELEASE DATE: January 2021
THE WINE
A post gives support for the vine to grow and anchors the vineyard to a specific place. 3 Post White is a blend of Chardonnay, Chenin Blanc and Riesling from three distinct vineyards, spanning from the lush hills of Rawsonville South Africa to the sun kissed valleys of Clare Valley Australia. Together they show aromas of green apple, pear and tropical fruit with undertones of citrus and stone fruits. The palate shows balance and freshness with flavours of tangerine, guava and wildflower honey. Lively acidity and a juicy core make this wine come alive.
THE REGION
Rawsonville is a small wine growing and farming community in the Western Cape Province of South Africa. The Mediterranean climate brings cool rainy winters and warm dry summers creating excellent fruit driven wines. The Clare Valley in Australia lies in the mid north of South Australia just north of Adelaide. The climate is continental with cool to cold nights and warm to hot summer days. The higher altitude of the region ensures the nights are still cool even during the hottest summer months allowing the fruit to ripen slowly and evenly. Each region imparts unique varietal characters that compliment each other seamlessly.
THE FOOD
• Grilled halibut with lemon basil vinaigrette
• Potato pizza with caramelized onions and rosemary
• Triple crème brie.
Sweetness Dry | Oak None | Body Medium | Alcohol 12.5%
Merlot, Hawkes Bay New Zealand – RELEASE DATE: February 2021
THE WINE
This Merlot is sourced from the renowned Hawkes Bay wine growing region of New Zealand. Bright aromas of blueberry and baking spice are followed by notes of plum, fig and tobacco. A soft mouthfeel leads to well textured tannins. This wine combines the elements of aroma, flavour and balance that Merlot is known for.
THE REGION
The oldest and second largest wine region in New Zealand is Hawkes Bay which is located on the east coast of the North Island. The region is blessed with a kaleidoscope of fertile soils ranging from gravel to sandy loam. The region is sunny with a warm temperate climate that offers a long growing season which promotes matures tannins and ripe fruit flavours.
THE FOOD
• Pork tenderloin with a blueberry reduction over Moroccan couscous
• Roasted root vegetables & braised greens
• Goat brie
Sweetness Dry | Oak Medium | Body Medium | Alcohol 13%

Ba
rbera, Piedmont Italy (with Grape Skins) – RELEASE DATE: March 2021
THE WINE
This 100% Barbera shows classic regional character. Aromas of ripe cherry, raspberry and strawberry are followed by hints of pepper and savoury spice. Flavours of blackberry and sour cherry lead to subtle notes of almond and caramel. A juicy mouthfeel is complimented by soft rich tannins, giving this wine balance and poise.
THE REGION
Piedmont is in North Western Italy at the foothills of the Alps sharing borders with France and Switzerland. There are two key factors that impact the climate in Piedmont, the cool Alps and the balmy Mediterranean. These two factors create extreme day and night temperature differences known as diurnal range. Cold nights, foggy mornings and sun kissed days make for excellent grape growing conditions. The Barbera vines are often planted on the warmer south facing slopes to help ensure optimal ripeness.
THE FOOD
• Braised lamb ragu over creamy Parmesan polenta
• Wild mushroom and truffle agnolotti
• Grana Padano or Parmesan Reggiano
Sweetness Dry | Oak Heavy | Body Full | Alcohol 14%