Make the perfect splash with Niagara Mist kits at Wine Kitz Riverview!
A uniquely refreshing wine beverage with a bold splash of ripe fruit.
The Niagara name has become synonymous with incredible wines and wonderfully tasty fruits. Niagara Mist™ combines famous wine varietals with sassy fruit flavours. These delightfully light and refreshing combinations are the perfect beverage choice for any occasion.
NEW! Stone Fruit Syrah Rosé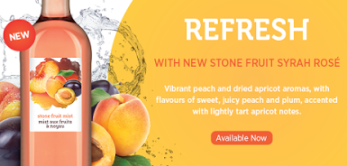 Vibrant peach and tangy dried apricot aromas, with flavours of sweet, drip-down-your-chin-juicy plum & peach, accented with lightly tart apricot notes. Loaded with ripe fruit flavours, this rosé really refreshes when lightly chilled. Excellent enjoyed on its own, or a perfect pairing for barbecue.
And, coming April 11th, is another great addition to this line up: Pineapple Coconut Pinot Grigio!
**Click or tap here for all the exciting varieties.**